You will be AMAZED at the By Grainger homes.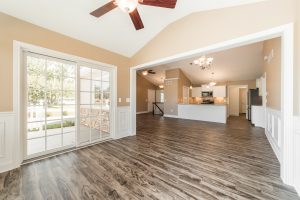 The open and spacious floor plan as well as the design quality. Don't forget about the expert workmanship. But remember it is all about what you want in your new home. Now is the time to reserve your perfect spot at Old Mill Park in Sycamore or Riverbend in Genoa. Have fun by keeping it simple or choosing from the many options.  From start to finish and beyond we will be there for you.
Contact Linda Tillis Century 21 Affiliated for details 815-751-3159
Solid Construction Services and Brian Grainger are the exclusive builders "Without Compromise".  The "SOLID" floor plan includes two spacious bedrooms. two full baths including an amazingly spacious master bath with a ceramic tile walk-in 9′ X 2′ shower area, 2 walk-in closets in the master suite, large walk -in pantry and what about a bonus storage area.  All units include a sunroom and  patio and are available with or without basements. There are many options available including a spa style master bath and a bonus storage area above the garage. Many new options will be announced!
Call today for more information.Take a look at all of the possibilities.  Contact Linda Tillis Century 21 Affiliated 815-751-3159.